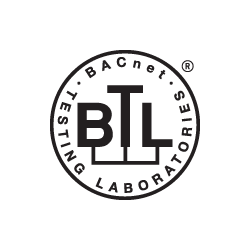 BACnet Product Certification Program
BACnet is the global standard for interoperable building automation solutions, and it works best when all products in a system are correctly implemented. Ensuring products are correctly implemented is the mission of The BACnet Testing Laboratories (BTL) Certification program. The BTL certifies products that have been independently tested for compliance and interoperability in accordance with the industry standard test package. Certified products can be identified by the BTL trademarked logo, the BTL Mark, on the physical product or by searching for the product in the online BTL Listing database.
The use of BTL Certified products can minimize integration time and costs. It also provides a solid foundation for future system enhancements and extensions. As a result, many building owner/operators, building controls specifiers and system implementors require all products on their projects to be BTL Certified.

To achieve certification, products must be successfully tested by a recognized, independent test organization and submitted for formal certification. The BTL establishes the testing requirements and operates the Certification program. The BTL is administered by BACnet International as part of its global collaboration activity.
To access the list of tested products or to learn more about certification, visit the BTL website.